News 2015
Stephanie Roche – a learner's story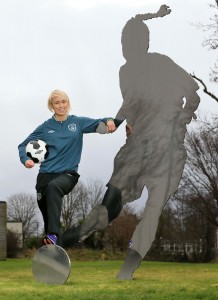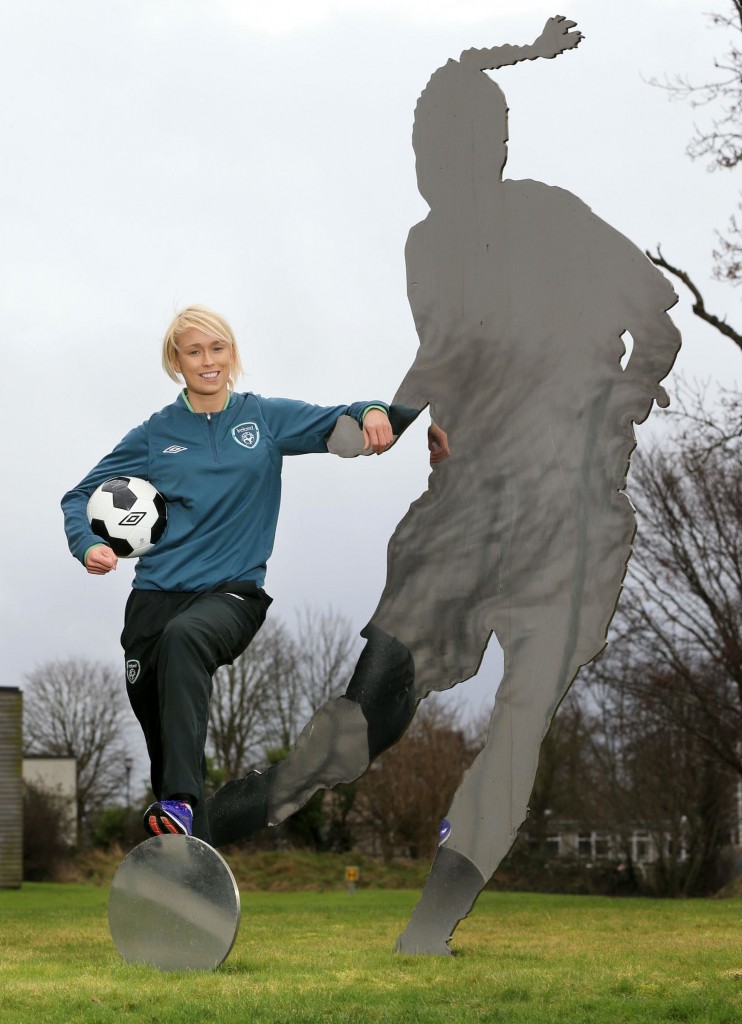 I completed my Leaving Cert in 2007 but never really liked school and didn't give it my full attention. In 2009 I decided to try education again and attended Sallynoggin College of Further Education on a Sports and Leisure Management course. It was a two year course but unfortunately, I left after a year as again I just wasn't fully committed to it. From there I went from job to job while playing football and all the time finding it hard to get the time off I needed to play football. This caused me great distress as I was playing football for the Republic of Ireland women's team and did need a lot of time off.
It was by chance that I heard about Project Futsal from a local FAI Development Officer. In my interview for the course it was made clear that education (Sport & Recreation FETAC level 5 Major Award) was the main focus of the course and that in order to complete all of my coaching awards and play football every day, I would have to first be committed to the education side of things. This was in my mind going into the course and I was determined to do well.
On starting the course I didn't really know what to expect from it but I was delighted with how much I was enjoying it. The mix of football and coaching made the Sports and Recreation Award side of things a lot better as it gave us a break in between. Each module was sports related where possible and this was great as it was something I was interested in and it gave me the determination to do well and to give it my best . Everyone on the course was in the same boat and we all helped each other out as much as we could. This created a great spirit among us and we have all remained close friends even after the course finished.
I was delighted when I finished the course with 7 Distinctions and 1 Merit and also my coaching badges which included Kick Start 1 & 2 and my Youth Certificate along with several other certificates including: Code of Ethics, Referees induction, Goalkeeping Intro, First Aid, Pan-Disability Football and Volunteer workshops. I really don't think I would have got this from any other course and it really gave me great confidence and the qualifications to try and get work in this sector.
The course really did open my eyes as to what was out there in terms of jobs in the sports sector and seeing all the FAI Development Officer's etc doing their work made me think that I would be capable of doing that job myself. That is why when I was asked to stay on the course for another year as an FAI intern, I jumped at the opportunity.
In my role as an FAI intern I was given the responsibility of looking after the development of girl's football in Dublin 15 which involved going into schools to coach young girls and promote the game of football locally. I've also been involved in organising tournaments and assisting in some of the coaching programs on the course with the new project students. This has given me great experience in a line of work that I really enjoy and that I hope to go on to do in the future.
I also considered taking the BA Sport and Exercise (Soccer) degree course in Carlow IT next September and this is something I never even dreamed I would do previously before joining Project FUTSAL. I was offered a place on the course but fortunately, my football career took off really well and I have since secured a professional contract in the USA women's league.
I've told plenty of people about my involvement in the project and have nothing but good things to say about it. It is a great course and I am delighted I had the opportunity to be a part of it and would highly recommend it to anyone.
Stephanie Roche
Footnote: Since her involvement with Project FUTSAL, Stephanie captured the attention of the World's Sport media with a spectacular goal scored while playing for Peamount United. The goal received almost 4 million You Tube views and was nominated for the FIFA Puskas Goal of the Season award.
Stephanie travelled to Zurich for the FIFA awards ceremony in February 2015 and mixed with the game's elite including Lionel Messi and Cristiano Ronaldo. Her goal finished as runner up to James Rodriguez wonder goal scored for Colombia during the FIFA 2014 World Cup in Brazil.
Stephanie has also recently achieved her dream job as a full time professional football player with Houston Dash in the USA Women's soccer league.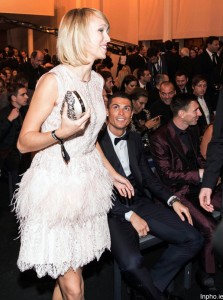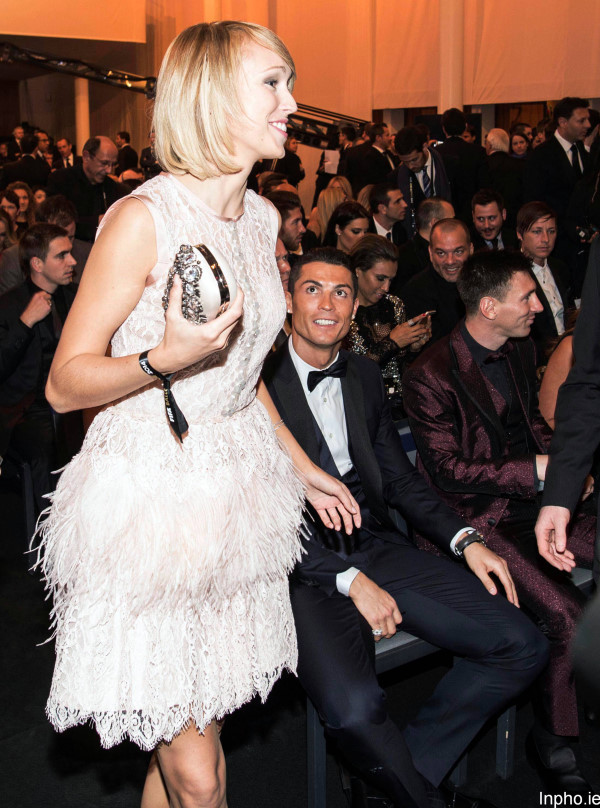 February 2015
Stephanie returns to Project Futsal roots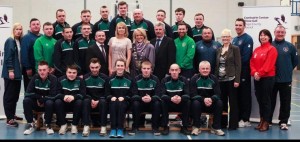 There was great excitement in Corduff Sports Centre when Women's National Team striker Stephanie Roche, the first Irish player to be nominated for the prestigious FIFA Puskás award, dropped in to wish the students on the Football Fitness Education Course well in their studies.
Stephanie was previously a student on the course and went on to become an intern with the FAI, working with the Course Tutors Denis Hyland and Martin Doyle. The course, which caters for 22 unemployed people is a follow on from the hugely successful "Project FUTSAL", a football centred education initiative which has run in Corduff Sports Centre for the past three years. The course helps participants to develop personal life skills via an accredited education programme while also gaining certified FAI Coach Education training.
Stephanie was presented with an award for her contribution to football by the Mayor of Fingal, Councillor Mags Murray, and the Chief Executive of Fingal County Council, Paul Reid.  The Mayor, a keen sports person herself, stated her delight at Stephanie's achievement, saying:
"She really put women's sport fully in all our minds.  It's not always about winning awards and scoring goals," stated the Mayor, "sport is also important for learning team work and for personal development especially in young people."
In summing up Paul Reid said:
"Stephanie is a true role model and has done great work in Fingal, working with many clubs and assisting course participants in the past to develop their skills, and I wish her well in the future."
February 2015
Soccer Education Was A Gamble; But Look Where It Got Me.
Sometimes the efforts of the FAI and its soccer education programmes go unnoticed. So I thought I'd celebrate my 25 years of re-entry into education by highlighting how an FAI education programme helped to turn my life around.
Twenty five years ago I gambled my future on soccer as a route to education. I suppose it was more of a last ditch attempt to turn things around than a gamble. It never occurred to me that education could be a way forward, in particular through soccer, but like my counselor said to me at the time, soccer was all I knew.
I was thirty years old at the time, having left school at the age of fourteen with little education. In fact I struggled with reading and writing so re-entering education scared the hell out of me.
Soccer had been good to me though as I'd represented Ireland at schoolboy and youth levels and had been on trial with two English clubs. My Dad brought me to League of Ireland games every week and soccer was all I knew. It gave me confidence and made me feel good. Things looked promising until the age of sixteen when a bad knee injury almost finished my career.
From eighteen onwards, things went downhill. The knee injury kept me out of the game for long periods of time and alcohol started to fill the void. And by the age of thirty the future looked bleak. The alcohol had taking over my life and my lack of education was limiting any hopes of progression. My mood was low and I couldn't see a way forward. I felt I'd let every one down and on a number of occasions I contemplated not continuing the struggle.
But then came hope. A counselor I was seeing suggested I re-enter education, and pointed me towards an FAI soccer course in the Clondalkin area of Dublin. I was accepted as a mature student and in 1990 at the age of thirty, I started my new education journey.
The year long soccer programme gave me a new lease of life. It gave me the confidence to start learning again. But I wasn't to know that the introduction of a new educational module to the programme would change my life. The new module was a partnership between the FAI and NUI Galway and was to be piloted with our soccer group. It taught us how adults learn, and how to design training and educational programmes.
I was fascinated with these new insights into adult learning and within months I was obsessed with education and wanting to teach others. The coaching route was perfect for this and with the help of the coaches I worked with schools, local community projects and schoolboy teams in delivering as many coaching programmes as possible.
Then something else came out of the blue. My new found educational skills inspired me to write a book, and I did. With Shay Blair from the Irish soccer supporters club we co authored Ireland's first book on the Irish soccer supporters titled 'What's The Story'. The book chronicled the exploits of the Irish supporters during Italia 90 and Euro 88. It was published by ELO publications in 1992 and went to number three in the Irish best seller list that Christmas.
And then came another game changer. In 1993 I was appointed as an assistant trainer on a new sports & fitness programme starting in the Tallaght area. The position involved designing and teaching a range of sports and fitness related modules to groups of early school leavers and unemployed persons. I had found my vocation; educating others.
By 1995 I was managing the programme which turned out to be the most successful of its nature in the country. During this time the FAI gave me the opportunity to lecture on their coach education programmes and I was also appointed as the education officer for the Dublin District Schoolboys Leagues.
From 1995 onwards I never looked back. I continued my obsession with adult learning and graduated as a teacher of adults through NUI Galway in 1998. I also trained at the English FA medical centre in sports injuries and massage and before I realised it a mini training business had grown around me teaching sports massage from local community centres.The training business expanded in the ensuing years and I left my fulltime position in 2005 to form The Irish Academy of Massage.
At time of writing things are good. In fact, very good. The training business is now 20 years in existence and has rebranded to Waverley Sports & Fitness Academy. More than fifteen trainers are employed and over 22 family members have worked in the business.
The soccer gamble paid off and the FAI course gave me the new lease of life I needed.
Ironically, this year I got the opportunity to give something back. Our training company has partnered with the FAI to provide fitness education for students on Project FUTSAL (Football Used Towards Social Advancement and Learning), another great social initiative from the FAI. I hope to do more for soccer education in the future and who knows what the next 25 years might bring J
Looking Back
Yes I put in the many hours and hard work required. But without the foresight of the FAI and its soccer education programmes, I'm not sure if I'd be writing this today.
Derek O Kelly – 2015
Director & Education Manager,

February 2015
Project FUTSAL student claims runner up in FIFA Puskas award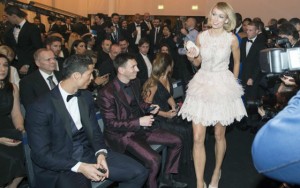 Stephanie Roche pictured recently at the FIFA awards in Zurich alongside Cristiano Ronaldo and Lionel Messi
Republic of Ireland Women's National Team striker and Project FUTSAL graduate, Stephanie Roche, nominated for the Puskás Award for FIFA's best goal of the year has achieved the runner up place to Real Madrid's Colombian marksman, James Rodriguez.
Yes, you've read this correctly, a Project FUTSAL former student has achieved this remarkable feat and mixed it with the World's best at the recent FIFA Ballon D'Or awards ceremony in Zurich.
Her goal for Peamount United in October 2013, in the Women's National League against Wexford Youths Women's AFC was one of three shortlisted for the global award. At the time the goal became an internet sensation attracting over 3 million views on You Tube as it went viral around the world.
The winner of the FIFA Goal of the Year was decided by a worldwide internet poll with votes being cast on fifa.com and francefootball.fr.
Roche said she is honoured to have been chosen in the top three.
"I am absolutely delighted to have been nominated for FIFA's best goal of the year. Obviously, it was a big surprise but it is a great boost, not only for myself, but for women's football and particularly the women's National League. It's a great feeling to see myself on the list," said Roche.
Stephanie was a student on the Project FUTSAL Fingal hub in Corduff, Dublin 15 in 2012 and followed up her studies with an internship in the FAI where she promoted women's football in the Dublin 15 area. However, her incredible year has been a huge boost to the profile of women's football in Ireland and has culminated with Stephanie gaining a professional contract with Houston Dash in the USA women's league. Everybody at Project FUTSAL wishes Stephanie continued success.
The FIFA Puskás Award was created in honour and in memory of Ferenc Puskás, the captain and star of the Hungarian national team during the 1950s and was presented for the sixth year in a row at the FIFA Ballon d'Or 2014 at the Kongresshaus in Zurich. During the televised show, Cristiano Ronaldo was also revealed as the winner of the FIFA Ballon d'Or for the World's best player of 2014.
January 2015
Waverley Sports & Fitness Academy partners with Project FUTSAL Ballymun 
Project FUTSAL (Football Used Towards Social Advancement and Learning) Ballymun has a new educational partner in the form of Waverley Sports & Fitness Academy (WSFA) who will provide fitness education and training for the project students in Ballymun as a Corporate Social Responsibility contribution to the Ballymun community. Students will receive an international fitness qualification combining soccer specific fitness methods for the modern day soccer player. The new qualification will also enable students to pursue careers in the leisure and fitness industry opening up many more employment or educational pathways.
 On successful completion of the programme students will receive the ITEC fitness instructor award and the new FitCoach soccer award developed by WSFA. The ITEC fitness instructor award is recognised by insurers and employers worldwide and is one of the gold standards for the Irish fitness industry. Derek O'Kelly, Director and Education manager at WSFA said;
  "It was an FAI programme which turned my life around almost 25 years ago and it's ironic that 25 years later I am in a position to help others do similar. I think the FAI Project FUTSAL is an incredible initiative which fits perfectly with our companies ethos of giving back to local communities and assisting with social advancement, career development and learning" 
 Waverley Sports & Fitness Academy is a private training college in the further education sector. It was established over twenty years ago and has a long standing reputation of giving back to local communities and assisting those re-entering education. Director of the college Derek O'Kelly also had his career reinvented by an FAI programme 25 years ago and is committed to providing opportunities to those who find themselves in a similar position to his own when he re-entered education. He has a strong belief in the power of education to transform lives and communities and believes that given the right support and learning environment, that everyone has the ability to achieve their educational goals irrespective of prior experiences or educational performance. Waverley Academy is proud to be associated with the FAI Project FUTSAL, a programme that contributes to social advancement, career development and learning. 
 FAI Project Manager, Derek O'Neill said:
"I'm delighted to welcome Waverley as a project partner. They are kindly delivering this course as a CSR contribution to the community and it comes at an ideal time for the Ballymun students who are working hard to upskill and re-enter the jobs market. The ITEC course delivered by Waverley will complement the FAI Coach education modules and FETAC 4 modules being delivered by Whitehall College of Further Education on the programme and put the students in a stronger position to gain employment in the Sport & Leisure industry".
Derek O'Kelly of Waverley Sports and Fitness
January 2015
Football as a force for good – Project FUTSAL research report launched
The recent Republic of Ireland V USA match provided the backdrop to another event which highlighted the power of football as a catalyst for positive change in people's lives. A research team from NUI Maynooth, led by Professor Maurice Devlin, was commissioned to conduct a longitudinal study of Project FUTSAL (Football Used Towards Social Advancement and Learning) and to examine the influence of football on social inclusion and community regeneration.
The research report launch event was very well supported with Chief Executive Officers from many of the recently reformed Education and Training Boards and representatives from various partner Local Authorities as well as officials from key Government Departments in attendance.
Sport is an inspirational phenomenon in people's lives and football being the world's most popular sport can play a key role in promoting social inclusion, social mobility and social advancement. However, much of the talk around football as a force for good is anecdotal and this solid longitudinal research provided by the NUI Maynooth team is a welcome addition to the conversation.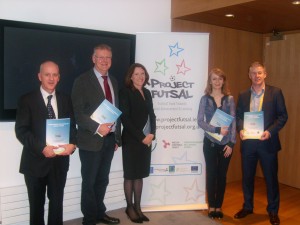 Photo shows researchers, Professor Maurice Devlin (NUI Maynooth) and Dr. Nuala Connolly along with Project FUTSAL Management team of Derek O'Neill (FAI), Miriam Malone (FAI)  and Kevin Moon (Welsh Football Trust).
The FAI makes a significant contribution in the area of social responsibility and Project FUTSAL provides an excellent example of how football can be used to engage people and positively change their lives.
Project FUTSAL is a social inclusion and community regeneration initiative funded by the ERDF via the Ireland Wales programme and uses football as a tool to re-engage unemployed people from disadvantaged areas with formal education.
From the outset, three main objectives for the project were identified:
To help people become more employable
To encourage people towards further education
To promote volunteerism in local communities
From the report, it's clear that these objectives have been met and surpassed!
Many of the project participants were not in a good place personally prior to participating on the programme with many disillusioned due to the lack of employment opportunities. However, Project FUTSAL has provided a genuine opportunity for those with an appetite to improve their career chances and the report indicates many fantastic outcomes in this regard. This doesn't just include academic awards or football certificates but extends to life changing, positive improvements in people's confidence and self-esteem, their general wellbeing, improved social skills and networks and a new positive outlook on their career prospects.
The research report highlights some of the progressions people have made and emphasises the advantages of using football as a motivational force.
The FAI felt it was important to try and provide an independent perspective of the power of football in this regard and this is clearly evident in the research report.
 The major contribution of other project partners, the Education & Training Boards and the Local Authorities in each of the project hub areas was acknowledged as was the excellent work of FAI Development Officers in facilitating the programme in each area and creating an environment in which students could thrive.
There is now an opportunity to take the initiative beyond the geographical area of the Ireland Wales programme and provide new opportunities in many other communities across Ireland and Wales and as such, Education and Training Boards along with Local Authorities are viewed as an ideal partnership vehicle to further develop such opportunities for unemployed people with an interest in sport.