News 2014
Project FUTSAL wins AONTAS Award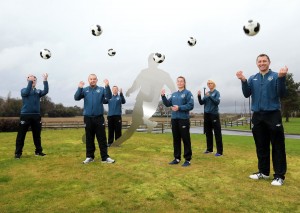 Project Futsal, an education initiative developed by the Football Association of Ireland in partnership with the Welsh Football Trust, is the winner of an AONTAS STAR Award in the nationwide category.
The award was given in recognition of the outstanding achievements of the project in helping people who are unemployed to return to education and to gain accredited education in the area of sports and recreation.
One of the graduates from Project Futsal is Stephanie Roche, a young woman with a keen interest in football having played for the Irish national women's team and Peamount United. 'Every module was sports related' she said. 'The course gave me great confidence and qualifications to try and get work in the sports sector. I really don't think I would have got this from any other course.' Stephanie is now involved with developing girls football in Dublin 15 and planning to further her education with a Degree in Sports at IT Carlow.
Paul O'Toole, CEO of the new Further Education and Training Authority SOLAS presented the winners with their awards at a ceremony this morning at the Doubletree Hotel in Dublin. Over 200 people attended the ceremony to recognise the achievements of the winning projects.
Speaking at the awards Mr O'Toole said 'The range of projects submitted for the awards this year once again highlights that learning isn't just in the classroom. Both the providers and learners have shown that tailored, high quality learning can occur in many different formats across many different facets of life. I would like to congratulate today's winners and all of the shortlisted projects this year.'
Project FUTSAL is a joint initiative between the Football Association of Ireland and the Welsh Football Trust and is funded through the European Regional Development Fund's Inter Reg IVA Ireland Wales programme. The objectives of the programme are to enhance participant's employability and/or their prospects of progressing to further or third level education. A full FETAC level 5 award in Sport & Recreation studies is delivered alongside a broad range of certified football courses and volunteer community work placements. 500 people have taken part over the past three years, with 85% of those who sign up completing the course. 60% of those who completed the course in its first year went on to full time employment. Many of the students give back to their communities – sharing their skills on a voluntary basis within the community.
This is the eighth year that AONTAS has organised the awards. 'We wanted to find a way to highlight the tremendous work of adult and community education organisations' said AONTAS Director Berni Brady. 'The awards assessment process is intense. Projects must first submit an application with details about their work. They must demonstrate strong evidence of outcomes for learners. Projects are then shortlisted by a panel of independent judges. The judges meet with each of the projects shortlisted before choosing a winner. This process ensures that we can say that winning a STAR Award is really a mark of recognition and quality in adult learning.'