News 2013
FAI Project FUTSAL/ Waterford United Community Camp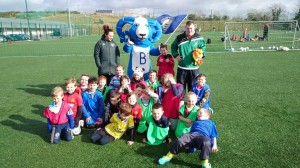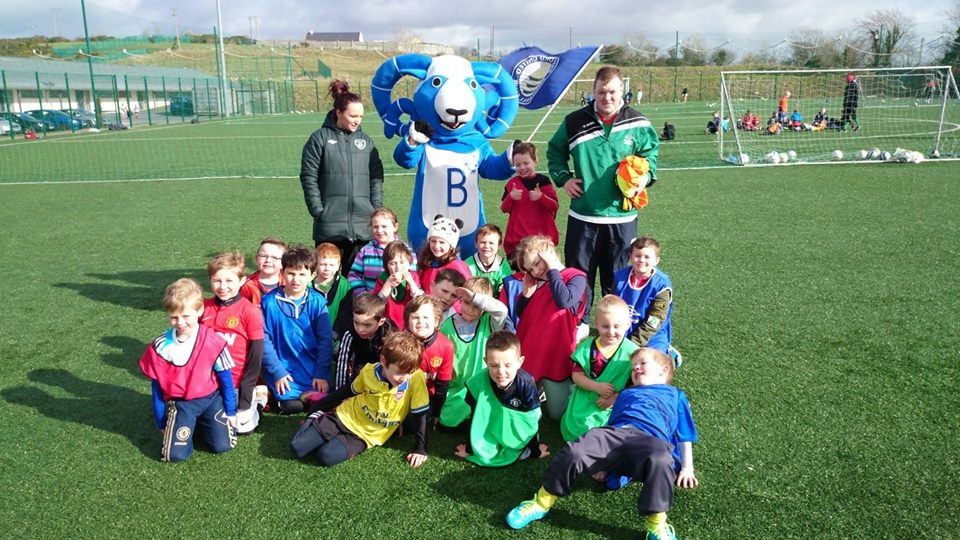 The first ever FAI Project FUTSAL/Waterford United Community Camp came to a very successful conclusion today at Williamstown Sports Complex.80 children in total took part in this joint initiative.FAI Project FUTSAL is an EU funded scheme operated through the Interreg programme and the Waterford Hub is now in it's third year of operation. Over the two days many first team players paid a visit to the camp along with Tommy Griffin First Team Manager and Johnny Browne U19 Manager and John Sullivan Waterford United Chairman. Club Mascot BILLBERRY also proved a huge hit with the younger kids. Speaking after the camp
Gary Power FAI Development Officer Waterford City. "We are all thrilled with the success of the community camp, the kids have had a great time and the parents have given some terrific feedback. This was our first event in our new football in the community programme with Waterford United and I feel this partnership will have fantastic benefits both for the FAI Project FUTSAL hub and Waterford United FC"
Tommy Griffin Waterford United First Team Manager " It is vital for our club to be active in the community and partnering with the FAI Project FUTSAL Hub Waterford is a fantastic mechanism for us to achieve our goals.This was just the first of many community programmes we plan to run and to have has such a brilliant two days has been fantastic success.Getting structures in place with regards to youth development and community involvement are two vital areas for our club and this will no doubt enable us to drive forward in the months ahead"
Project FUTSAL run Interreg Pan Disability Tournament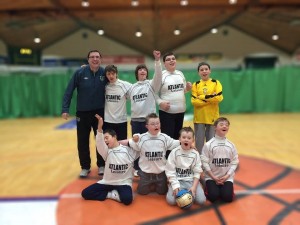 On Saturday 8th February,  a very special football tournament took place at the National Basketball Arena, Dublin.
Pan Disability Football  teams from Ireland and Wales joined forces for a festival of futsal. Four Project FUTSAL  Irish hubs were represented with Dublin, Carlow, Waterford and Tipperary participating while  two teams also travelled from Wales to represent the project there. St. Christopher's School were the representatives from North Wales with Cardiff City representing South Wales.
 Each team participated in five games culminating in a medals presentation at the end of the day with all children receiving a Project FUTSAL festival participation medal. The day then concluded with refreshments for all participating teams and volunteers to round off a thoroughly enjoyable day.
 Glyn Jones from St. Christophers school, Wales said:
 "I would like to express my thanks to you and the Project team for organising such a wonderful event. Only one of my pupils has ever done anything like this before and for nearly all of them it was their first time away from home. The children had a wonderful time and apart from the football they learnt so much about the way to behave when representing the school and sportsmanship. I think the tone of the day was brilliant and all the children would have gained so much. Long May Project Futsal continue. Please keep us in mind if you organise a similar event".
 Project Futsal administrator Rachel Graham from the FAI who coordinated the event said:
 "It was great to see the children having fun and I'd like to thank all of the local volunteers and coordinators for their help in making this wonderful event happen  to give kids with special needs the same opportunity to take part in football as other kids. I'd also like to thank our friends from Wales who made the journey to Dublin and made a huge contribution to the success of the day. I'm sure everyone will agree that the smiles on the children's faces throughout the day were the abiding memory of the event!"
 PROJECT FUTSAL is a joint initiative between the Football Association of Ireland (FAI) and the Welsh Football Trust (WFT) with the core aim of utilising football as a social inclusion tool in order to facilitate innovative community regeneration.   The project has been designed through the cooperation of the FAI and the WFT and secured funding from the Ireland Wales Inter Reg IV Programme 2007-2013. The overall aim of the project is to provide education and work opportunities for young people in disadvantaged areas and to influence and assist community regeneration via employment and volunteerism in the field of sport.
 Attached photos show the Tramore team representing the Waterford  project hub who participated in the Football for All Futsal Festival in Dublin.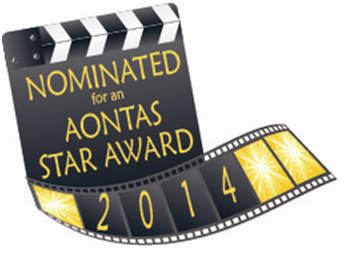 Project FUTSAL has been shortlisted for the nationwide AONTAS STAR award for 2014. The overall aim of the project is to provide education and work placement opportunities for young people and to influence and assist community regeneration via employment and volunteerism.
The Adult Learners' Festival is a nationwide celebration of adult learning coordinated by AONTAS, the National Adult Learning Organisation. The Festival takes places from 24 February – 1 March 2014. The Adult Learners' Festival is supported by the Department of Education & Skills and Teagasc.
The STAR Awards (Showcasing Teamwork, Awarding Recognition) are an awards initiative coordinated by AONTAS as part of the annual Adult Learners' Festival to acknowledge the fantastic work undertaken by adult learning projects throughout Ireland. The awards celebrate the positive contribution that these projects make to society, the economy and local communities.
The independent STAR Awards Judging Panel includes representation from a number of key stakeholders in the adult and community education sector in Ireland. This year these include the ETBs,the QQI, Active Retirement Ireland, ICTU Skills Network, Small Firms Association, Teagasc and Pobal. In addition, the panel includes individuals with direct experience of learning as adults.
The winners will be announced at the STAR Awards Ceremony which takes place in Dublin on Monday, 24th February 2014.
PROJECT FUTSAL is a joint initiative between the Football Association of Ireland (FAI) and the Welsh Football Trust (WFT) with the core aim of utilising football as a social inclusion tool in order to facilitate innovative community regeneration. It is part funded by the ERDF via the Ireland Wales Inter Regional programme 2077-13.
Project FUTSAL proves a big hit
Click here to view this publication

Project FUTSAL girls receive International call up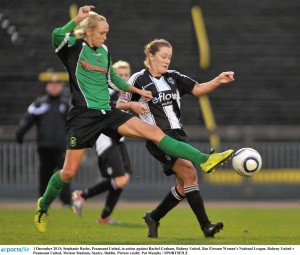 Project FUTSAL graduates Rachel Graham and Stephanie Roche have been called into a 20 strong squad for a Republic of Ireland senior women's team training camp in La Manga, Spain next week.
The La Manga Training Camp will be key part of team manager Sue Ronan's 2014 preparations for FIFA World Cup qualifying campaign and the Cyprus Cup tournament in March  
The squad will fly to La Manga on Monday morning 13 January and will be based in the Spanish resort for five days.
It's a great opportunity for the girls to stake a claim for a place in the team for the busy year ahead which is dominated by FIFA World Cup qualifiers.
Stephanie Roche currently works as an intern Football in the Community assistant with the Project FUTSAL programme based in Dublin 15 while Rachel Graham is the Project FUTSAL administrator based in FAI HQ in Abbotstown.
Project manager Derek O'Neill said:
"It's great that the girls have been drafted in to the squad as they have worked hard for it and deserve it. Hopefully, they will be able to make a good impression and strengthen their chances of being in the team for the all important qualifiers. Everyone at Project FUTSAL wishes them all the best".
.
Project FUTSAL is part funded by the ERDF via the Ireland Wales Inter regional programme 2007-13.
Hub Students and FAI Interns help at Late Nite Leagues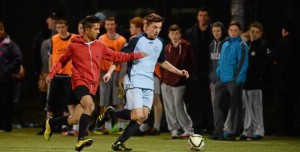 Over 400 players took part in the FAI's Late Nite league finals this evening (Friday, December 6) in Irishtown stadium, Ringsend, the Project FUTSAL students and FAI interns were there to give a helping hand in the running of the finals.
The event marks the culmination of Late Nite Leagues at nineteen centres throughout Dublin, involving more than 1000 players between 12 and 19 who have been competing for the last six weeks.
The finals night consisted of four separate tournaments for 12 to 15s and the over 16 age group. Fair play and best citizenship are an integral part of the activities.
The programme is run by the FAI in conjunction with local councils, An Garda Síochána and the Department of Children and Youth Affairs and has been very successful in giving young people a healthy outlet during peak hours for anti-social behaviour. Its success has been praised by An Garda Síochána's Assistant Commissioner John Twomey for its ability to assist in community policing and in delivering a significant reduction in anti-social behaviour call outs.
Ronan Foley, Chief Executive of IBP, which has come on board with the FAI through their Youth and Community fund to provide financial support for the project was present this evening along with  An Garda Síochána Assistant Commissioner John Twomey. Also present were representatives of each of the Dublin local authorities, Dublin City, South Dublin, Fingal and DunLaoghire Rathdown as well as the Department of Children and Youth Affairs.
Well done to all involved!
 In October 2013,  An Garda Siochana carried out a joint initiative with the FAI to combat bullying and racism. This is the third successive year that this initiative has taken place. There were several aspects to this initiative.
Talks to 5th class pupils in ten primary schools in the Raheny/Clontarf area on anti bullying and anti racism.
Soccer Skills sessions for 5th class pupils in ten primary schools with activities based on trust, team building and inclusion.
One day blitz competition on the 23rd of October 2013 for 26 teams from participating schools.
The talks sessions and skills sessions were carried out over a two day period. FAI Development Officer Jimmy Mowlds liaised with coordinators from Project FUTSAL to gain help in drawing up timetables for the delivery of this part of the program as well as delivering the talks on anti bullying and anti racism to pupils. Project FUTSAL students and Interns from the Finglas and Ballymun hubs delivered the skills sessions to all of the pupils. There were approximately 520 fifth class pupils from ten primary schools in the Raheny and Clontarf areas. This was a huge undertaking and was completed over two days. The skills sessions where cleverly delivered around the concepts of trust, team building and inclusion. Both pupils and teachers were very complementary of the professionalism and enthusiasm of the Project FUTSAL coaches and all enquired as to when they could come back!
I wish to offer special thanks to Jamie Wilson and Paul Whelan and their teams from the Ballymun hub for all their hard work and organisation to make this initiative a success.
The one day blitz was completed on the 23rd of October 2013 at the DCC All weather facility in Fairview. We had a total of 13 boys and 13 girls teams as well as supporters, teachers etc in attendance. Project FUTSAL, Corduff organised the fixtures and running of games as well as refereeing the games and helped to mentor the participants in the concept of fair play in sport. This was an essential part of the initiative in that it allowed participants to show what they had learned and how to express fair play in sport. Teams showed this through how they participated in the tournament, including team building, trust and inclusion for their own team mates, opposition, referees and supporters. All of which was overseen by the Project FUTSAL team from Corduff and in particular Denis Hyland. Again I would like to express my thanks to Denis and his team for all their hard work and organisation in helping to make this initiative a success.
I believe this is a very worthwhile initiative and one which targets pupils at the right time in their development. This initiative could not take place without the continuing support of Project FUTSAL and would not be a success without their professionalism and enthusiasm.
Kind Regards,
Sgt.Jim Clavin,
Community Policing,
Raheny/Clontarf, Dublin.
Bagenalstown Host First Ever Inter-Hub Futsal Tournament
The 28th of November saw the first ever inter-hub futsal tournament which was held in Bagenalstown, Co.Carlow. Six teams from three different hubs took part. The competition had two groups, with the top two teams progressing to the finals. Wexford managed to make it to the two finals but were unlucky to be beaten by Clonmel and hosts Carlow in two, high intensity, finals.
Well done to all involved!!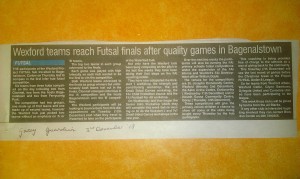 Stewarts Hospital Session
The students and interns of Project FUTSAL deliver numerous hours of community work through various programmes.
The students and interns of the Clondalkin hub spend some of these hours in Stewarts Hospital, providing valuble social inclusion work by delievering 3 coaching sessions every Tuesday for children of all abilities. There are a total of 35 children that take part in these sessions.
The enjoyment the children get from these sessions is huge, which is evident in these photos below.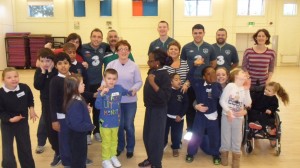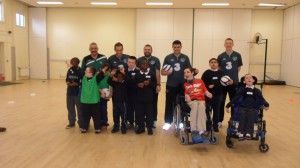 Stephanie Roche goal receives praise from Celebrities
GREAT GOAL!! GOAL OF THE SEASON
from
Project Futsal
on
Vimeo
.Last weekend, the Bus Eireann Women's National League saw one of the finest goals you're likely to see all season in any league in the world!  It was scored by a Project FUTSAL graduate who now works for the FAI as a Football in the Community Development Assistant!Peamount United's Stephanie Roche conjured up a goal of breathtaking beauty which has attracted comment from football fans the world over. People such as USA
soccer
player Abby Wambach who is a double
Olympic
gold medalist
and the
current FIFA World Player of the Year
have been struck by the awesome goal which has gone viral and has attracted almost 1.5 million views in the past few days alone! Wambach tweeted "What a goal!".  And what more needs to be said?Former England striker and Sky Sports commentator Matt le Tissier who was known for producing similar flashes of brilliance also applauded the strike by Stephanie. In fact, Le Tissier even went as far as declaring it as 'The Goal of the Season'  –Manchester United star Rio Ferdinand tweeted 'Wow….is this ladies goal better that Wilshere & Kasami goals' TV presenter and actor James Corden wrote "for all those who say'Women cant play football! It's a mans game innit! 'Tell them to watch this"amazing during a weekend which also featured wonder goals from Zlatan Ibrahimovic, Jack Wilshere, Edison Cavani, Kasami and former Derry star Paddy McCourt!The 24-year-old Republic of Ireland international striker, Roche showed brilliant skill to control a cross from the right wing and despite the close attention of her marker, she flicked the ball over the head of the defender before smashing the ball home with a tremendous left-footed volley from the edge of the box leaving the goalkeeper with no chance
The Daily Telegraph also picked up on the goal, saying: "It's been quite a weekend for goals. But nothing – nothing – beats this", as well as The Mirror, ESPN, ITV and Sky Bet picking up on it.
Stephanie who recently graduated from the FAI Project FUTSAL and recently began an internship with the FAI as a Football in the Community Assistant is understandably delighted with the response to her sublime strike.
Molly Carpenter finds coaching success in America thanks to Project FUTSAL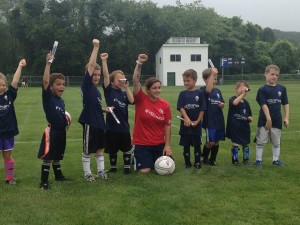 I found out about Project FUTSAL through friends of mine who participated on the course the previous year. We played on the same team and they explained what was involved and what qualifications I would leave with. They told me of their different experiences working within different areas of soccer coaching. About how they volunteered at different community events and how they worked with local schools. I have always been interested in coaching and finding out more about different styles of coaching so decided to apply. I also liked the fact that they used their work experience methods by giving back to the community and providing schools with well needed soccer coaching.
Since participating on the project FUTSAL course I gained my kickstart level 1 and 2, Disabitlity awareness intro, Referees intro, and strength and conditioning intro. With this I applied with a coaching company called Youth Elite Soccer (YES) who hire coaches from across seas to go to America with their coaching qualifications and work with clubs all over the States.
They accepted my application and flew me out to a club in Rhode Island called North Kingstown Soccer Association (NKSA) in April 2013. Unfortunately I did not complete my Youth cert or other certificates that I would have liked to have achieved but took the opportunity regardless. NKSA is a community based club with over 300+ players. They have 13 competitive teams age ranging from U8-U16. They have a program for the recreational players U8 and under.
My main responsibility when I first arrived at NKSA was organizing, planning and running all U8 and under recreational practices. In total I had 19 sessions per week. I had a total of 122 players at the start and finished the spring season with 134. I also helped some older age competitive teams with practices and assisted the competitive U8/U10 teams on game days.
During the summer YES hosted soccer summer camps with different clubs in different states in America. I was based in the New England area which covered states including Rhode Island, Massachusetts, New York, Connecticut and Maine. I got to travel around to 4 of these states to coach at camps throughout the summer season. Camps were usually a week long and depending on the age group ranged from 45 minutes (3-4 year olds) to 6 hours (8+ year olds). There was also 2 hour session options. We also ran team camps which were usually 3 hour camps.
Working with NKSA through the spring I set up the summer camp to run within their club. This was the first summer camp to take place with this club. I set up the facility, advertisement and captained the camp. We got enough players signed up to run 2 separate weeks. Both camps were successful and NKSA are looking forward to the camps running again next year.
Throughout the summer I captained 3 different camps. Camp captain duties include: managing staff, transportation of staff, meeting with co-ordinators, the H&S of camp, payment of camps.
After the summer NKSA contracted me back to their club for the fall season. For the fall NKSA only run recreational soccer. My duties and responsibilities are similar to the spring regards setting up and planning the recreational end of things. This time though I am more of an educator. Each team has a parent coach and my job is to prepare their session plans and coach them how to coach the children by using the methods I have provided. I help out with every session that takes place throughout the week. I also run coach the coaches sessions were parent coaches can come and experience different ways to coach and take new ideas back to their session. We have game day each Saturday were all the players play against the other teams in their age group. I run all U4 games making sure that the players are having a fun time and wanting to come back for more. I supervise the U6 games and make sure coaches are coaching while players are playing. Keeping everything fun for the players. I then go and watch all other games that take place throughout the day.
On Sundays I run extra clinics for children  who are looking to play competitive soccer next spring and has not got the skill needed right now. These practices run for players aged U8-U12. Now at NKSA the recreational program has 165 players signed up and growing.
All of this would not have been possible if I did not have the chance to participate on the project FUTSAL course. It made me the coach I am today and gave me the confidence to come to America gain more experience and also share the experiences that I have had with others.
Molly Carpenter.
Love Hate star 'Elmo' visits hub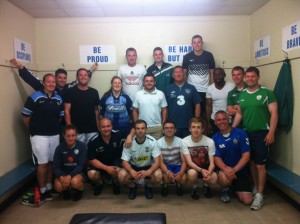 Love Hate star Laurence Kinlan (Elmo) came to Home Farm to wish the Ballymun students the best of luck in their final Youth Cert assessment. After weeks of practice the students done their final assessment on Friday 7th of June.
DCU Masterclass
DCU in the Community and DCU School of Health and Human Performance have hosted an event to mark the end of a series of Masterclasses delivered to Project Futsal programme participants by a group of final year Sport Science and Health students.
Project FUTSAL (Football Used Towards Social Advancement and Learning) is a one-year programme consisting of adult education, personal development, football coaching education and work experience designed to provide education and work opportunities in sports coaching for people in disadvantaged areas.Futsal also aims to influence and assist community regeneration via employment and volunteerism. The programme is supported by the FAI, Whitehall College of Further Education and Dublin City University.
It is the second academic year in which DCU students have designed and delivered a series of Masterclasses as a part of their module in Sport and Exercise for Special Populations. The sessions were carefully tailored to the FUTSAL participants' developmental needs and interests and held on DCU campus drawing on the University's and the School's expertise and state of the art sports facilities. Classes included practical sessions in a variety of coaching contexts including adapted physical activity, injury, coaching education and nutrition deigned and delivered by the six students involved in the project.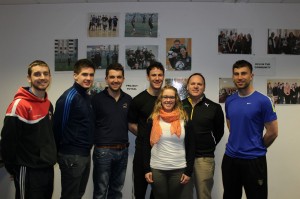 Sports Science and Health Students Cathal McGrenaghan, Cathal Ellis, Kenneth Glover, Antoin McFadden, Niamh Barry and Michale Boyle with Supervisor David Passmore (second from right)
The project is an example of the benefits that community-based learning can bring to both university students and participating adult learners, many of whom commented on their increased confidence as football coaches and players, and knowledge about physical activity and exercise."The most important thing I learned was the nutrition needed to play your best in sport", Clara Giltrap, Project FUTSAL participant said. Her classmate, Stephen Baker, added: "I felt the classes helped a lot and gave me more confidence".
Kenny Glover, final year Sport Science and Health student commented:  "Our aim was to promote the coaches to think differently about their coaching philosophy and begin to adopt new practices that may not have been familiar to them prior to our classes. We placed them in situations that challenged everything they had learned with us and the FAI and we were delighted to see how well they all performed". His classmate Cathal McGrenaghan added: "I feel I have gained a lot from my interaction with the group, which will ultimately help in any group exercises in the future".
Delivery of the sessions was supervised by David Passmore from DCU School of Health and Human Performance who commented positively on the initiative "this is my first experience of working with students within this setting and really highlights the alround benefit to all of community based projects.  I was impressed by the commitment of the DCU students to the careful planning and delivery of the classes which clearly benefitted the Project FUTSAL coaches' development".
Joanna Ozarowska from DCU in the Community noted: "The project allowed both DCU students and community participants to develop their communication, problem solving and leadership skills, as well as respect for diversity, through the medium of sports and coaching education. DCU in the Community is glad to facilitate this link between academia and sport."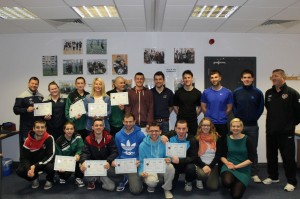 FUTSAL Coaches with their final certificates along with DCU Students, FAI Coaches and Joanna Ozarowska (front right) from DCU in the Community
Lynn Bradley loving the life in New Orleans!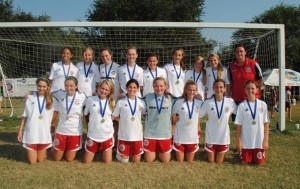 Project FUTSAL is an education / employability programme which targets people in disadvantaged areas and prepares them for work in the sports industry. 20% of graduates from last year's programme now work as interns Football in the Community assistants with the Football Association of Ireland and they are having a big impact in the local schools and clubs in which they operate.
However, some other graduates have progressed into the sports industry outside of Ireland and one of these is Ballymun girl, Lynn Bradley, who now works as a professional coach in the USA. Lynn participated in the project hub in Ballymun last year and graduated with a collection of FAI education certificates and FETAC 5 and 6 sports related academic certificates which have really helped her to begin a career in soccer in the USA. The following is Lynn's story since beginning her time in the US:
"So basically I am classed as a professional coach at Chicago Fire Juniors, Louisiana. Our club has over 3,000 players here in New Orleans. We have approximately 50 competitive teams at our club. There are approximately 3 boys and 3 girls teams for every age group from U11-U18. All of our competitive teams play in competitive leagues against other teams in Louisiana within their specific age group. They also play in 4-6 tournaments per season as well as league and they play friendly matches throughout the season so they play constantly (August-May). Competitive teams train 2-3 times per week.
I have responsibility for two girls teams, the U13 competitive 1 team (the top team at that age group) and a U15 competitve 2 team.  I have 18 in my u15s squad and 17 in my u13s squad. Both teams train 3 times a week for 1 1/2 hours. I am the coach for both and I am responsible for all of the coaching. I do not have an assistant — both teams are my responsibility for the season with regards to training sessions, player evaluation, physical fitness,  technical ability development etc.
Parents pay about $1500-2000 per year for their child to play competitive soccer so you can imagine how serious it is. I have a scheduler with each team ( this is a volunteer parent on the team who books the fields and registers the team for tournaments, makes sure I do not have a conflict with the other team in regards to playing games etc. I cannot be in two places at once so they organize games so that I can always make both teams games as I am the coach/manager for both teams.
I also deliver goalkeeper clinics one night a week for the club. This is open for any goalkeeper between ages of 9 – 13 boy or girl who plays for our club and wants goalkeeper specific training.
I also work in the club's office and I am the newsletter editor. We do a monthly newsletter which features teams in the club who won recent tournaments, players who get selected for the national try-outs and general information on each programme we have at the club. (Sparks is for kids aged 3-4 yrs old, recreation soccer for kids aged 6-16years who just want to play for fun, youth development programme is basically all players between 8 & 10yrs old who want to try play competitive soccer when the time comes and they are old enough and then competitive level which goes from U11-U18.
The competitive teams are all trained by professional coaches 2-3 times a week and they travel out of state to play sometimes in tournaments, friendlies and they also play league and state cup–(like the national cup but in Louisiana). And if you have some 'super teams' then they will play in a higher level league and must travel out of state to compete as the teams in their state are not competitive enough for them. We have a U16 girls team who travel to places like South Carolina, Las Vegas and other places to compete with the best teams in the USA.
I also work with a high school during November-February. It is a private school and is extremely affluent and costs about $16,000 a year to attend. High school soccer is a big deal here and it is regarded as an honor to play for your school. Generally all club players are on the varsity soccer team(1st team), then you have a junior varsity team(2nd team) which are made up of club players also but the other half of the team may just be vollyball or track runners who can kick a ball and are athletes.
This summer I will be doing summer camps with Chicago Fire Juniors Louisiana (my club) and also I will be doing a high school camp in Mississippi as one of my friends is the coach of a college team and she runs the camp. So all in all, a busy schedule!
This is just one example of how Project FUTSAL can help people to change their lives and there are many more similar stories to tell. The project is co funded by the Ireland Wales Inter Regional programme 2007-13 and is delivered in partnership with the Welsh Football Trust. To find out more about Project FUTSAL, visit www.projectfutsal.ie
Project FUTSAL wins UEFA award
Project FUTSAL has taken the bronze award in the Best Project category at the 2013 UEFA Grassroots Day Awards.
The awards were presented at the UEFA Grassroots Workshop in Oslo on Tuesday 9th April by Italian football legend, winner of the 2011 UEFA President's Award and UEFA grassroots panel member Gianni Rivera.
Project Manager Derek O'Neill said:
"It's great that Project FUTSAL has received recognition at the UEFA awards ceremony for the many benefits it delivers to young unemployed people. The project is testimony to the power of football to attract people towards acquiring new skills and increasing their chances to progress in life. There are also direct benefits accruing to the local communities in which the project is based with participants delivering a broad range of football related social inclusion programmes locally as part of the work experience module of the project. Huge credit should go to the course coordinators and tutors who are at the front line of this project and directly influencing the personal and professional development of hundreds of people".
PROJECT FUTSAL is a joint initiative between the Football Association of Ireland (FAI) and the Welsh Football Trust (WFT) with the core aim of utilising football as a social inclusion tool in order to facilitate innovative community regeneration. The project secured funding from the Ireland Wales Inter Reg IV Programme 2007 becoming the first sports project to receive Inter Regional funding via the European Regional Development Fund.
Launch of the Project FUTSAL hub in Prestatyn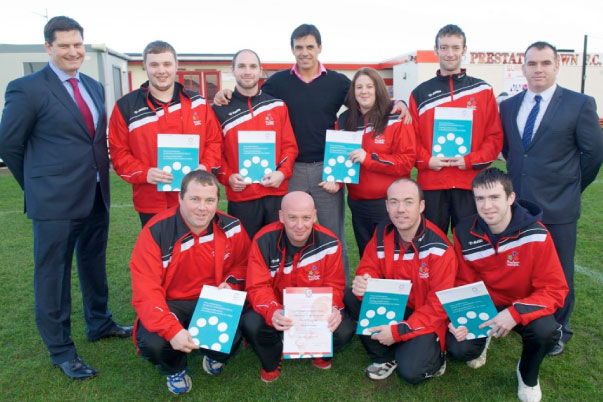 Friday 11th January 2013 saw the launch of the Project FUTSAL hub in Prestatyn by Wales National Team Manager, Chris Coleman. Chris was joined by Neil Ward, CEO of the Welsh Football Trust, Tony Maguire, Project Futsal Coordinator and Gafyn Buckley, and Brian Wall from the Llangefni Project Hub, which was the first of its kind in Wales.
The launch, hosted by Prestatyn Town FC, was a huge success, highlighting the positive impact Project FUTSAL has on both the individuals involved in the scheme and communities as a whole.
Also in attendance at the event wereAnn Jones AM and Chris Ruane MP, who closed proceedings, praising the incredible work of all those involved in the project to date and looked forward to the continued successes of the scheme as more hubs are opened across North Wales.