News 2012
Project Students impact in local communities growing
The benefits of utilising the skills and enthusiasm of Project FUTSAL students are now beginning to show in various communities around Ireland where project hubs are based. The benefits of having a group of thirty students who can assist FAI Development Officers in the delivery of important community initiatives are becoming clearer and an example of this was well demonstrated recently in North Dublin.
New project students under the guidance of project hub coordinators from Ballymun and Corduff had their first taste of volunteering when they played a major role in the delivery of the The 2nd Annual Garda, FAI,Dublin City Council joint community project which culminated in a festival of football event last Thursday the 15th of November at the Alfie Byrne road Sports Complex.
This hugely successful community project engaged almost 500 young children at 5th Class Primary Schools level from the Clontarf, Harmonstown, Killester and Raheny areas with the programme focus on the themes of Anti-Bullying, Personal Safety and the "Show Racism The Red Card" initiative.
Community Gardai delivered the Personal Safety and Anti Bullying modules to the schoolchildren in September and recently assisted in the delivery of the "Show Racism The Red Card" classroom talks in partnership with FAI Development Officers. These were delivered to twenty one classes over three days and demonstrated an excellent collaboration between the FAI and important community stakeholders. Most importantly, it ensured that a large cohort of children became aware of issues essential to their personal and local community wellbeing.
Great credit is due to the Ballymun Project Futsal Hub led by FAI officers Jamie Wilson and Paul Whelan who coordinated the football practical sessions (which accompany the anti racism initiative) delivered by the students who recently completed their kick start and child welfare training modules on Project FUTSAL. The coordination of such a large scale of activity was a demanding task given the location of the schools and the restricted time span involved and was performed admirably by the project students.
The Corduff Project Futsal Hub students coordinated by FAI Development officers Denis Hyland and Martin Doyle played in integral part in the hugely enjoyable football blitz day delivered at the Alfie Byrne road Sports complex. As well as organising the teams, groups and fixtures for the Blitz the students also staffed ,refereed and co-ordinated all of the children's teams on the day.
The Gardai also played a key role in transporting schoolchildren to and from the event and also assisted in staffing the event. The Deputy Garda Commissioner Nasie Rice who attended the event roundly praised the professionalism and application of the Project Futsal staff and students in dealing with over 420 children (boys and girls) and ensuring a successful and enjoyable day for all.
The event featured novelty football areas such as a supporters zone with Street Striker, a Crossbar Challenge and Penalty shootout competitions with attractive prizes for the winners.
It was clear that the joint effort of the FAI / Dublin City Council Development Officers, the Project Futsal Ballymun and Corduff students and the Raheny /Clontarf Community Gardai made this an event to remember for the happy children. Already Gardai who recognise the importance of such events in building community relations have an eye on next year and recognise the potential to expand the project to new areas.
Project FUTSAl manager Derek O'Neill commented:
"Over the course of the last year, we have seen the value of the project FUTSAL students engaging with clubs and schools in their local communities. As well as giving the students an opportunity to upskill and prepare for employment or further education opportunties the project equips students with new life skills gained through volunteering in their local community and that can only be good for all concerned. We have been very happy with the ability and enthusiasm of the students to engage in important community activity through the medium of football and have recognised this by taking on eighteen of last year's project graduates on an internship programme with the FAI"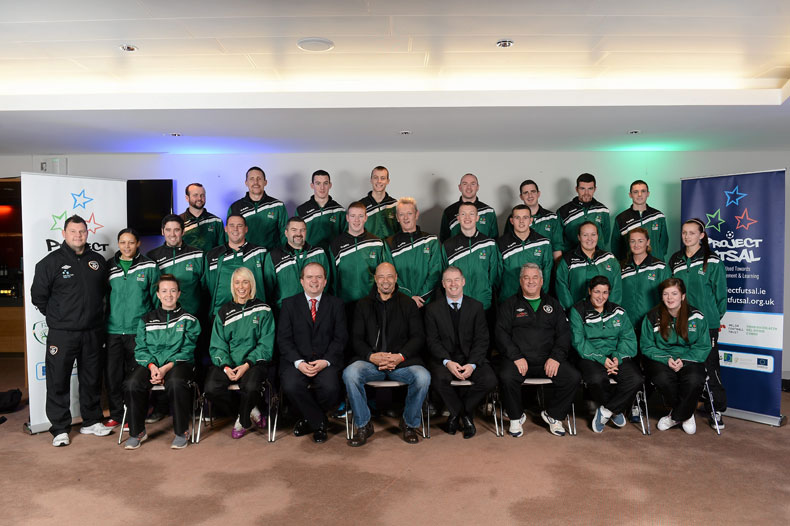 Project Students and staff from the Project FUTSAL Dublin hubs at a recent event where former Republic of Ireland legend Paul McGrath showed his support for the programme.
Project FUTSAL graduate David Meehan made his amateur international debut
FAI Project FUTSAL graduate David Meehan made his amateur international debut in last Saturday's Republic of Ireland amateur friendly international against Scotland at Frank Cooke Park, Tipperary.
David, who is Crumlin United's goalkeeper graduated from the Project FUTSAL hub in Ballymun last year. He will now begin an internship with the FAI as a community development officer where will have responsibility for assisting at the new Project FUTSAL hub in Clondalkin.
All at project FUTSAL wish to congratulate David on his call up to the squad and debut and hope he has many more successful outings in an Ireland shirt.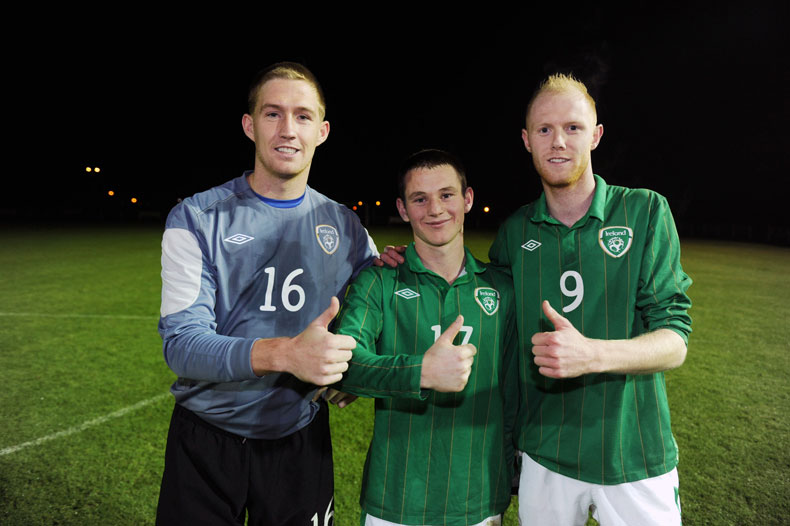 FAI provides opportunities for project graduates
The FAI with the support of project partners such as the local Councils and VECs have teamed up to provide a unique opportunity for people who are unemployed and out of formal education and who are interested in football to get involved in an innovative project to help them back into the workforce.
PROJECT FUTSAL is a joint initiative between the Football Association of Ireland (FAI) and the Welsh Football Trust (WFT) with the core aim of using football as a social inclusion tool.
The project has been designed through the cooperation of the FAI and the WFT and has secured funding from the Ireland Wales Inter Reg IV Programme (www.irelandwales.ie)
The overall aim of the project is to provide education and work opportunities for young people and to influence and assist community regeneration via employment and volunteerism. Students from the first three project hubs completed the course programme at the end of May and there are seven new project centres due to commence in September 2012.
As an additional incentive to project participants, the FAI is offering the opportunity of an Internship to a significant number of graduates of the project. This September will see up to 20 (twenty) new interns starting work in the FAI to assist local development officers to roll out football related social inclusion programmes in local communities.
The interns will be employed under the new Job Bridge scheme and will have the opportunity to see and experience first hand the role of a Football Development Officer in a number of local communities around Ireland.
The first interns will be graduates from the Project FUTSAL hubs in Ballymun, Carlow and Waterford which ran over the last academic year. Many project participants earned qualifications in the Sport & Recreation field as well as reaching Youth Certificate coaching level. They were involved in volunteer work in the local communities during the project programme but now have the opportunity to work in a football related role for real.
Said Project Manager Derek O'Neill:
"This is a terrific opportunity for people who really applied themselves to the course last year and excelled. This will provide invaluable experience for the project graduates as they pursue a career in Sports development and the internship with the FAI will be a significant addition to their CV. We're very pleased with the level of graduates we have identified for the roles and believe they will make a great contribution to football in their communities."
The project will further progress this year and see resources being invested in twelve communities by the Ireland Wales Programme, the Football Association of Ireland (FAI) and the Welsh Football Trust (WFT).
It will primarily involve the rollout of twelve Hubs (seven in Ireland and five in Wales): a Hub is an education centre that will provide an academic year of adult education, personal development, football coaching education and work/volunteer placements.
The course offers an extensive education programme featuring a FETAC level 5 award course in Sport & Recreation studies and a full range of FAI Education programmes including coaching awards up to Youth Certificate level and the certificate in Video match analysis.
Places on the programme will be offered to thirty participants from the local community at each Hub. The course is open to both men and women and it is hoped that course participants will be made up of an even number of male and female participants.
The course is free of charge and participants may be entitled to certain financial support while on the programme. Interested people should check with their local social welfare office, job centre or VEC office to see if they are entitled to support through existing schemes.
The first courses begin in September and if you're interested, you can apply now at www.projectfutsal.ie
Irish Ferries Announce Travel Partnership with Project FUTSAL
Irish Ferries will be the official travel partner of Project FUTSAL for the duration of the project and will provide the transport for project hub participants travelling between Ireland and Wales on Inter-hub exchange programme visits.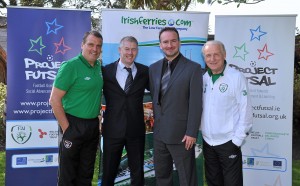 UEFA Grassroots Day
On Wednesday 16th May to celebrate UEFA Grassroots Day the FAI held a schools event in McGrath Park, Bagenalstown, Co. Carlow, the first of its kind in County Carlow.
St Marys Mixed National School and Queen of the Universe Girls National School attended the event that was planned and organised by the Project FUTSAL students who are based in the Vocational School in Bagenalstown.
Up to 100 children participated in the event which saw the coaches use all their experience from the last 9 months on the FAI Project FUTSAL programme to be put on a high quality fun football session for both schools. Some of the activities that the children were involved in on the day were Small Sided Games, Dribbling Games, Heading Games, Passing Games and playing Heads and Volleys with the foot volley net.
Both schools were presented with UEFA Grassroots Day footballs and t-shirt by FAI Development Officers Garry Coady and Darren Murray with Bagenalstown FC FAI Summer Soccer School Coordinator Mick Condon presenting all children with Summer Soccer Schools brochures for the 2012 camp to be hosted by Bagenalstown FC in July.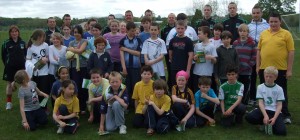 Minister Joan Burton visits Ballymun Hub
Minister for Social Protection, Joan Burton visited the Project FUTSAL Ballymun training hub on Monday, 14th May.
Participants on the Football Association of Ireland's new Project FUTSAL education programme which features a FETAC 5 major award in Sport & Recreation told the Minister how the course has boosted their job potential.
The course had 80 participants in the pilot hubs delivered in Ballymun, Carlow and Waterford in Ireland and Llangefni in Wales and all will run again in September.
Part-funded by the Ireland Wales Programme 2007-13, Project FUTSAL is a joint initiative by the Football Association of Ireland and the Welsh Football Trust to use the power of sport for social advancement and learning in young adults.
Derek O'Neill, Football Association of Ireland said, "Project FUTSAL is not a football initiative. It's primarily concerned with advancing employability and education in young adults using football as a tool to attract learners. There is also a strong emphasis on volunteering and contributing to local communities through sport. We are delighted with the first run".
The course is open to both male and female participants who are gaining training and experience in pan disability football coaching, video match analysis, stadium stewarding, IT, communications, football, health education and youth leadership skills.
The course also aims to instil a strong support for volunteerism with each course participant dedicating time to their local communities through the project.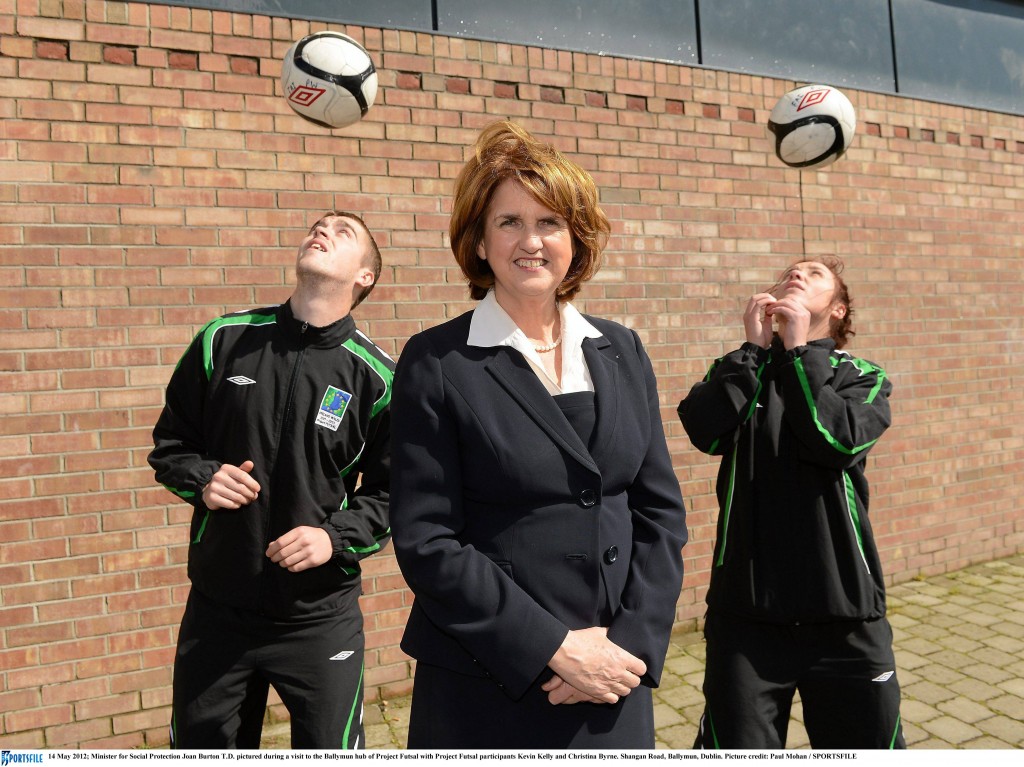 Project Students Disability Masterclass
As part of the series of master classes delivered by the final year students from DCU for Ballymun project FUTSAL hub participants, a visit to the Irish wheelchair Association was arranged where several DCU students demonstrated an adapted physical ability masterclass. Project participants were put through their paces by acting out how players with disabilities participate in sport. The video shows project students learning how to coach using wheelchairs.
Another Boost for Ballymun Hub
Congratulations to Rebecca Creagh, Ballymun Hub participant who has been nominated on the Bus Éreann Women's National League All Star Team as well as being nominated for Player of the Season. Rebecca plays with Raheny United who currently lie in second place in the Women's National League with one game remaining this season.
Rebecca will find out her fate when the best players of the inaugural Bus Éireann Women's National League will be honoured at an awards lunch that is due to take place at the Burlington Hotel on Tuesday, May 1st. The Minister of State for Tourism and Sport, Mr. Michael Ring will present the awards.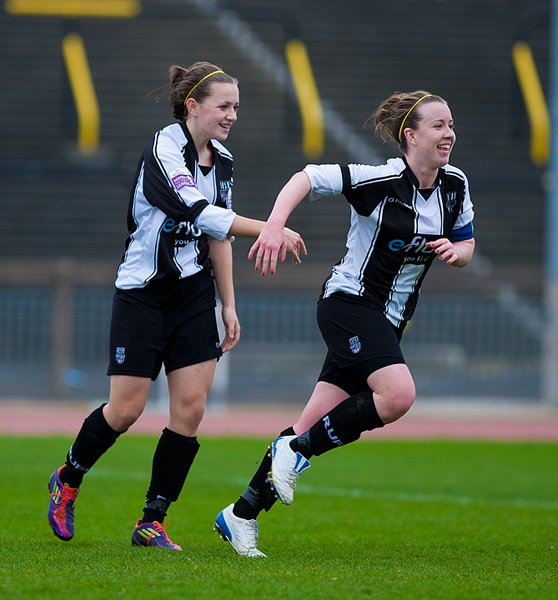 Project FUTSAL students take part in World Record breaking penalty kick event
History was made at a sun drenched Tallaght Stadium recently when the CFAI marked its 40th anniversary by setting a new world record for the most consecutive penalty kicks to be taken in one day.
Ballymun Project FUTSAL students Lynn Bradley and Michelle Watson were amongst the first goalkeepers in action on the morning and produced a string of impressive saves. They also got to meet Ireland legend Ray Houghton before his history-making kick.
Irish football icon Ray Houghton had the honour of taking the 743rd penalty to break the record, which was set by Major League Soccer in New York last year when David Beckham took the record breaking kick.
The CFAI, working with ITT Dublin and Senior College Dun Laoghaire, helped smash that record completely and set a new total of 1401 kicks.
The record is to be verified by the Guiness Book of World Records and that announcement is expected in the coming weeks.
FAI Chief Executive John Delaney, Minister of State at the Department of Finance Brian Hayes TD, ITT Dublin President Pat McLaughlin and former Republic of Ireland manager Brian Kerr also turned up to take a spot-kick.
Standing alongside Lynn and Michelle, 23 other goalkeepers made themselves available to face the kicks (Facing an average of 56 kicks each) including a number of Airtricity League goalkeepers such Barry Murphy (St Patrick's Athletic), Paul Hunt (Longford Town), Chris Bennion (Monaghan United) and Matt Gregg.
Congratulations to all involved but particularly to Lynn and Michelle!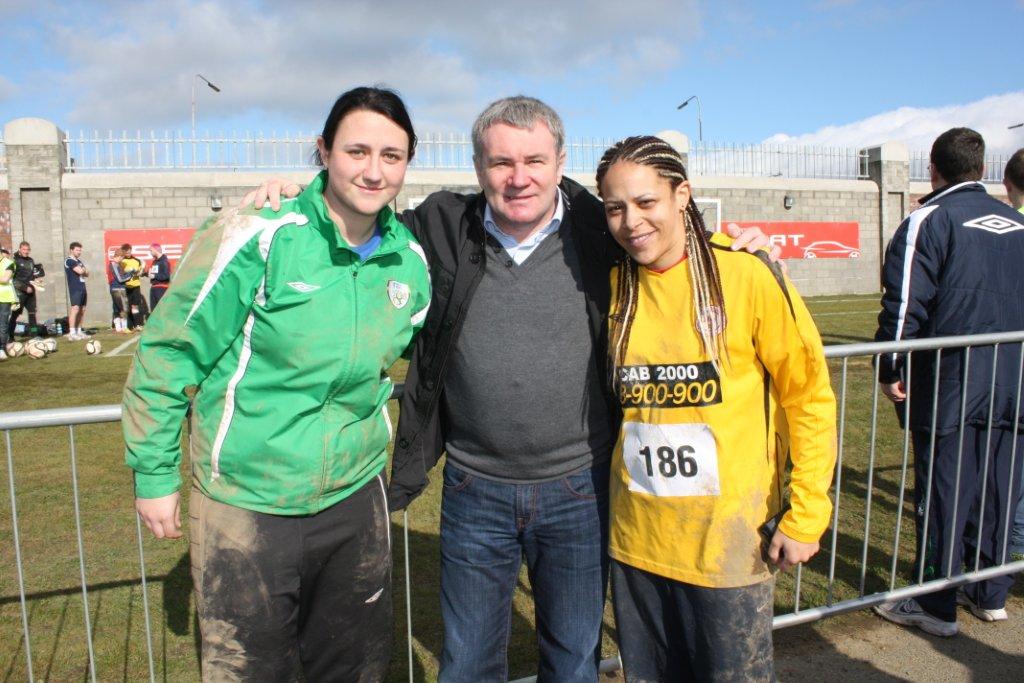 Minister for Children and Youth Affairs, Frances Fitzgerald
Project FUTSAL Waterford hub recently received a visit from the Minister for Children and Youth Affairs, Frances Fitzgerald.
Minister Fitzgerald was very impressed with the hub concept and spent time chatting with the project participants learning of their experiences and how they were progressing on the Project FUTSAL programme.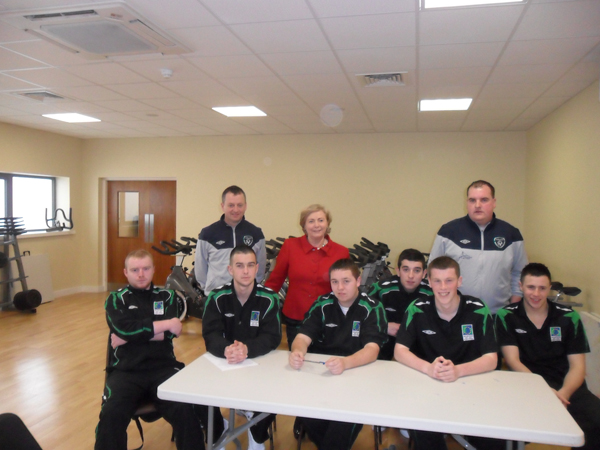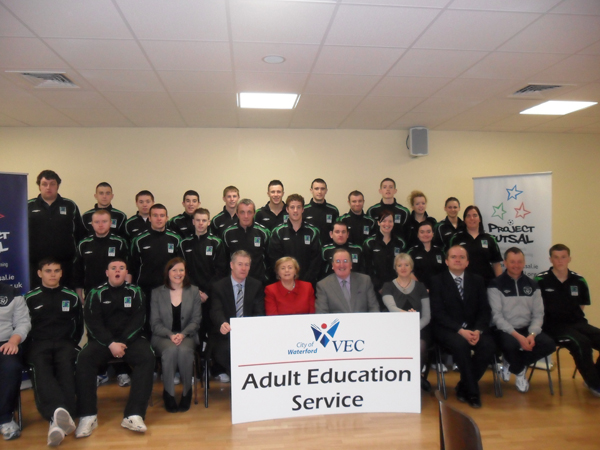 Trappattoni and Delaney show support for Waterford project
The Project FUTSAL Waterford hub received a visit from a special guest last Friday 10th February when Republic of Ireland Manager Giovanni Trappattoni dropped by to wish the participants well in their studies. Trappattoni was accompanied by FAI CEO John Delaney who was viewing the project on his "home patch" for the first time.
Said Delaney:
"I believe this project can create new opportunities for people who are unfortunate enough to find themselves out of work. It can offer the opportunity to acquire new skills from an academic and a sporting point of view. It can also stimulate volunteerism locally which is the lifeblood of football in Ireland. Giovanni and I have dropped by today to express our support for such an important project and to wish the students the very best for the future."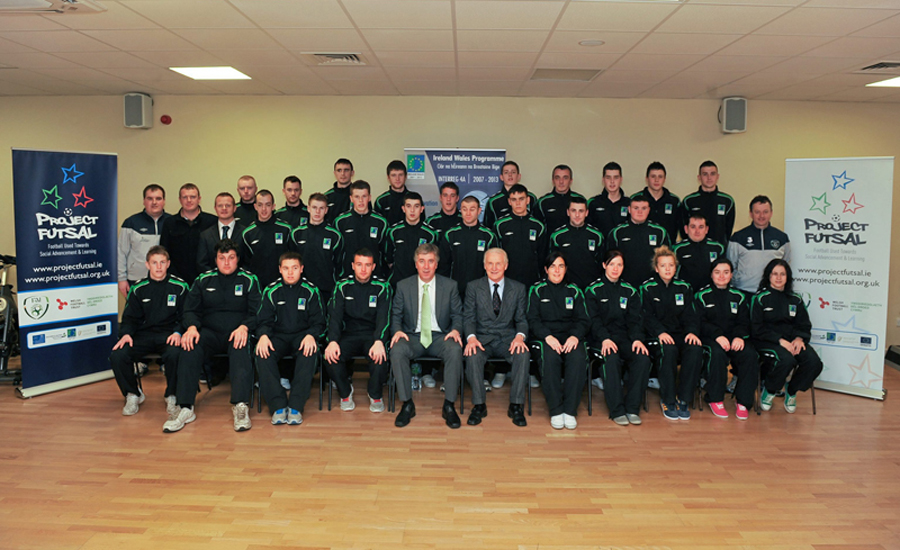 Official Launch of Project Futsal hub Ballymun
The Official Launch of the Ballymun hub of Project Futsal took place today at the Ballymun Civic Centre with special guest Ronnie Whelan in attendance.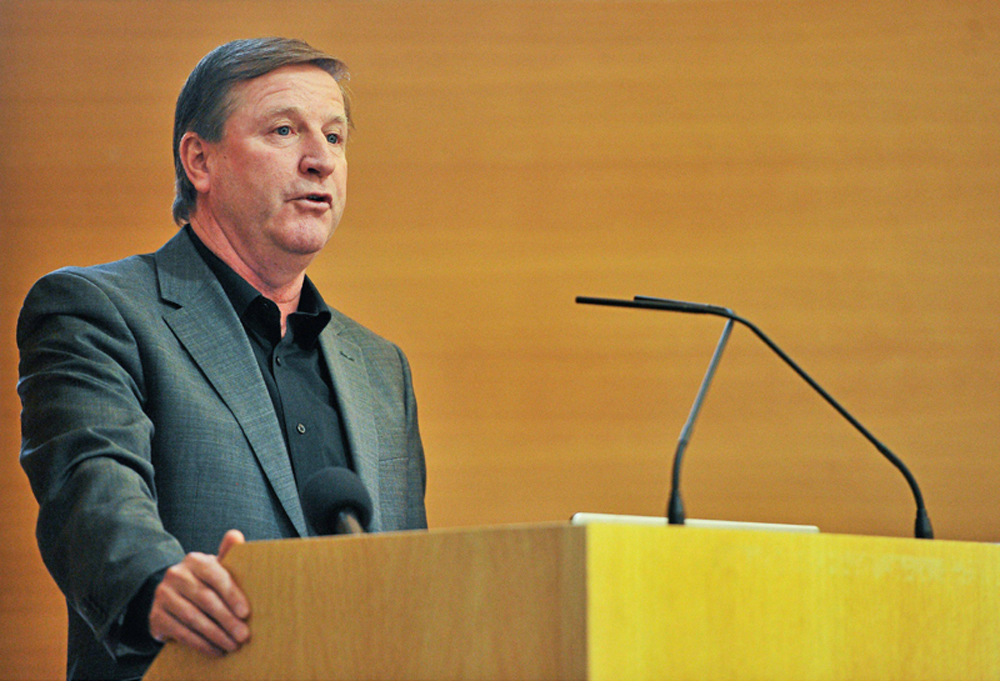 Project Futsal is an EU funded joint initiative between the Football Association of Ireland (FAI) and the Welsh Football Trust (WFT) with the aim of utilizing football as a social inclusion tool in order to facilitate innovative community regeneration.
The FAI is delighted to partner with the Welsh Football Trust and be involved in such a unique and worthwhile project and look forward to watching the project grow in both countries over the next few years.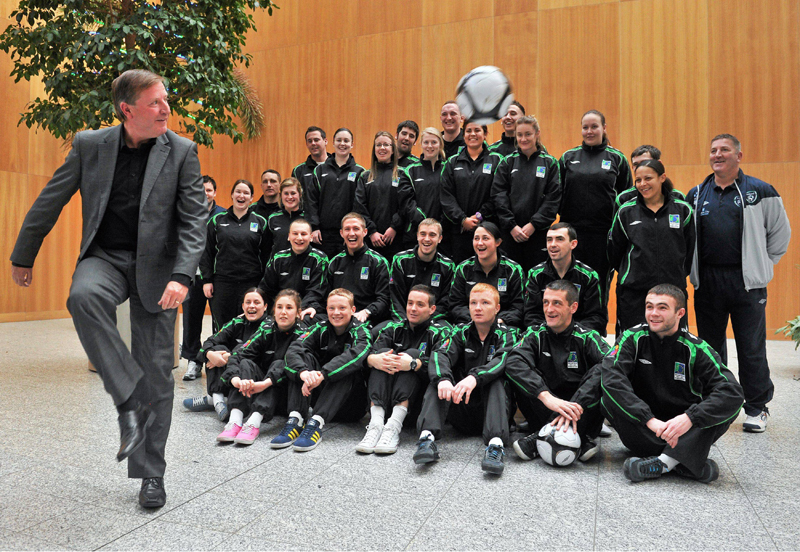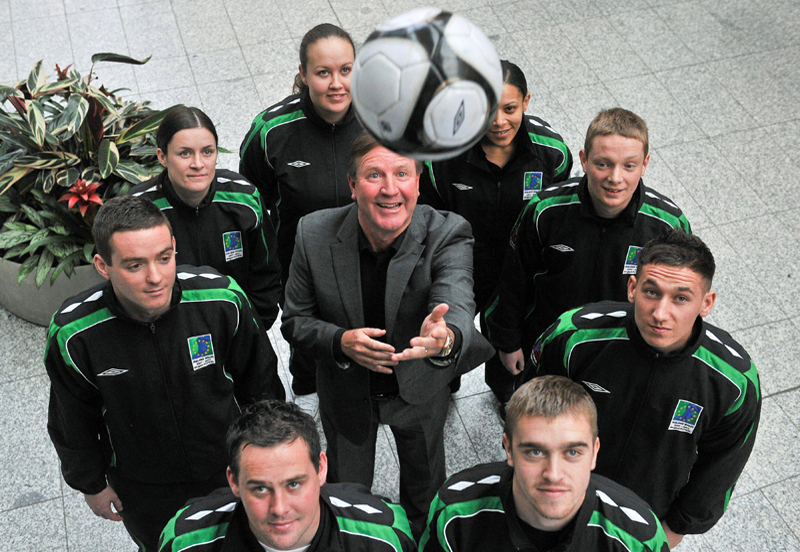 Our Development Officers in Ballymun, Paul Whelan and Jamie Wilson, will oversee the work locally that is undertaken in the hub and it is with thanks to their co-funders, Dublin City Council, that they are able to take charge on a day to day basis.
The Ballymun Project FUTSAL Campus is spread over four venues and sees classes and practical sessions being held in Poppintree Sports Centre, Ballymun Leisure Centre, Whitehall College VEC Outreach Centre and DCU in the Community, Shangan Road.
Having this Hub up and running and delivering such a high quality programme would not be possible without the help and support of a number of groups. Ballymun Regeneration Ltd assist in funding local facilities and contribute to the education programme. Dublin City University in the Community and Whitehall College of further education were both involved in the design of the education programme. All of the students involved in the project are enrolled in the DCU Bridge to Education programme.
Ronnie Whelan said 'I am delighted to be here to support this fantastic project. It is great to see these kids being given a chance to further their education while being involved in football and staying away from trouble in the local area. It is also great to see the students involved in the work experience programme which ensures that they can begin giving back to the community as soon as possible.'
Project FUTSAL students instrumental as Dublin City University clinches the WSCAI National Futsal Cup
Futsal Intervarsities – Final
Kick Off: Friday 27th January 2012 at 17:45 Location: IT Sligo
Referees: Paul Duddy, David Berry, Gerry Behan
Teams: Dublin City University 3 vs IT Sligo 1
The Project FUTSAL hub in Ballymun, Dublin was the proud provider of four key players as a skilful Dublin City University side emerged victorious against a gallant IT Sligo. The players, Lynn Dowling, Michelle Watson, Amy Ryan and Rachel Graham who are enrolled in Dublin City University in the University's Bridge to Education programme played a major role in securing the title for the Dubs.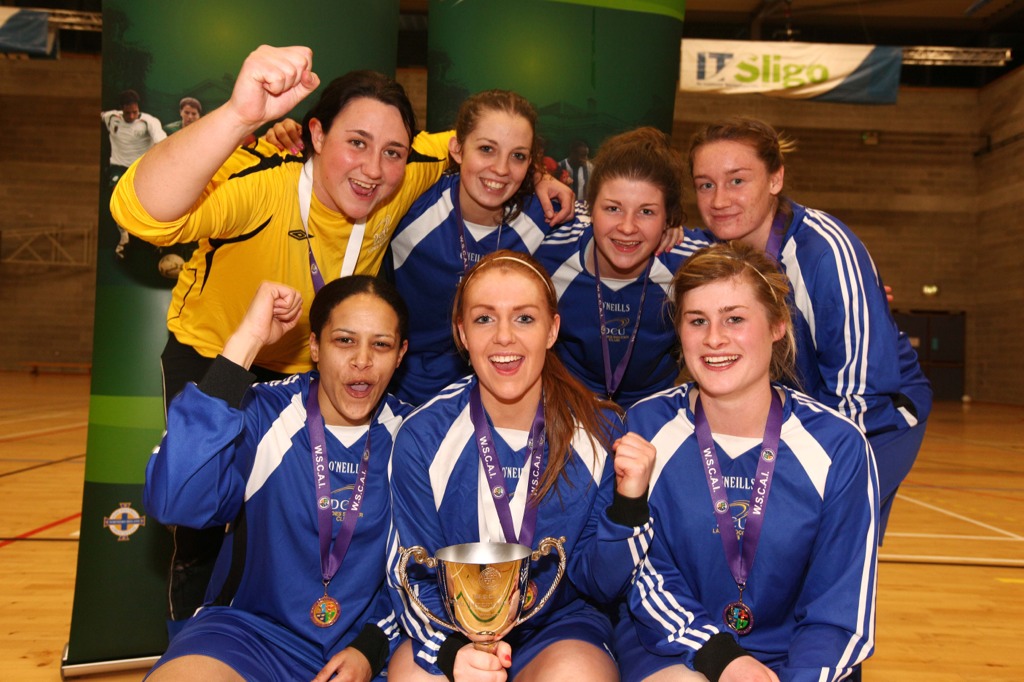 In a tournament that showcased the rising standard of female futsal in this country, the final was a real thrilling battle with Rachel Graham giving DCU an early lead after three minutes when she found the net with a snap shot. DCU captain Becky Walsh produced a brilliant second goal for her side two minutes later with an excellent low strike.
IT Sligo reacted quickly and Deirdre Doherty made it 2-1 in the seventh minute with a snap shot after excellent work by Aileen Gilroy. The hosts battled hard to get an equaliser but eventually they were caught on the break and Cliodhna McHugh made it 3-1 after good set-up play with Amy Ryan.
DCU now have the opportunity to represent Ireland in the European women's Intervarsities finals in Malaga, Spain in July.
A list of outstanding players in the competition included DCU's Becky Walsh and Amy Ryan.
Squads:
DCU: Lynn Dowling; Becky Walsh, Rachel Graham, Orlagh Murphy, Michelle Watson, Amy Ryan, Cliodhna McHugh.
IT SLIGO: Emma Cullen; Amy Roddy, Aileen Gilroy, Kim Flood, Sarah-Louise McMoreland, Anna Grant, Maria Harrington, Roisin McCafferty, Deirdre Doherty, Annie Lynskey.
INCHICORE COLLEGE: Jade Corrigan; Michaela Kavanagh, Clare Kinsella, Ashling Dent, Emma Gregg.
UCC: Katie Hannon; Niamh Foley, Patrice Kearney, Zoe Murphy, Yvonne Cahill, Clare Cooney, Sarah
Clune, Michelle McNally.
RESULTS – WSCAI National Futsal Finals 2012
IT Sligo 2 Inchicore College 1
UCC 2 DCU 4
IT Sligo 2 DCU 2
Inchicore College 0 UCC 1
DCU 4 Inchicore College 1
IT Sligo 3 UCC 0
Semi Finals
DCU 2 Inchicore College 0
IT Sligo 0 UCC 0
(IT Sligo won 3-1 on pens)
WSCAI National Futsal Cup Final
DCU 3 IT Sligo 1