News 2011
Nov 27th, 2011
Everyone involved in Project FUTSAL was shocked and saddened to hear of the death of project ambassador Gary Speed today. He will be sadly missed by everybody and our thoughts and prayers are with his family at this difficult time.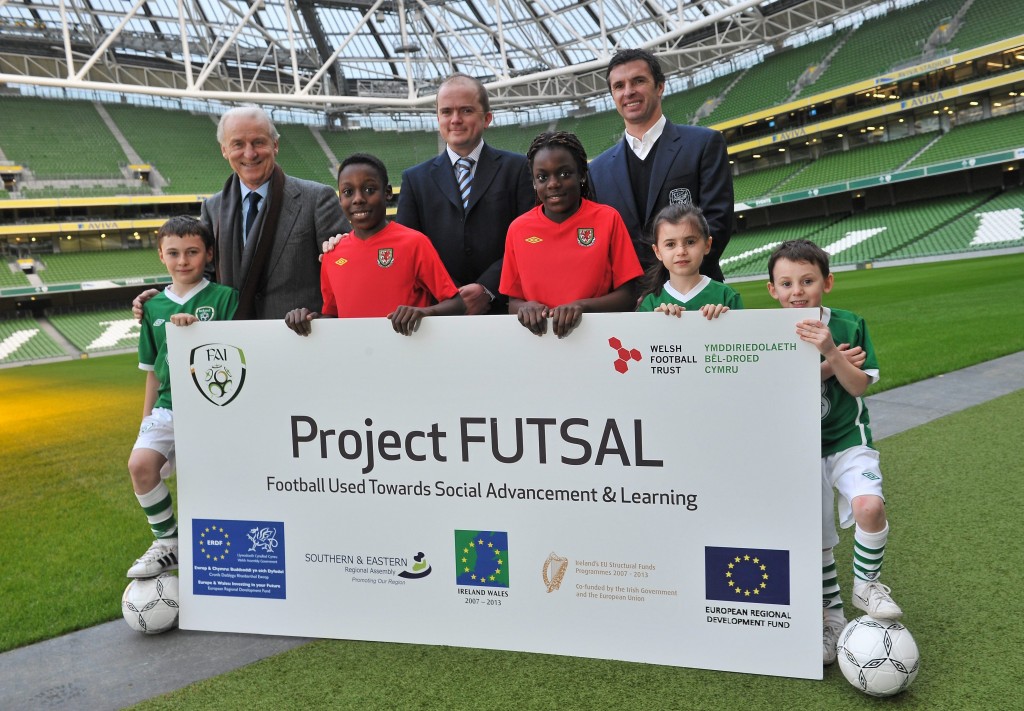 Nov 16th, 2011
On the day that the Republic of Ireland senior men's team qualified for the European Championships 2012, the Ballymun Project FUTSAL hub had a special visitor. Marcos 'Pipoca' Sorato has probably the most sought-after job in Futsal – he is the manager of World Futsal Champions, Brazil. Marcos, in Dublin on a personal visit, dropped into the Ballymun Centre at the invite of project manager, Derek O'Neill.
He said of the Ballymun hub:
"The hub concept is a fantastic idea. To attract people back into education using football or futsal is a unique approach. Given the popularity of the games, it is certainly an approach which could bring success in my country where there are great challenges in terms of social inclusion and education, particularly in the poorer areas of large cities. I congratulate the FAI on this initiative and hope it continues to be successful."
Marcos has enjoyed great success in the sport of Futsal, not just as a manager, but also playing professionally in Spain for Playas de Castellon and Caja Segovia. His nickname, Pipoca (the Portuguese for 'popcorn') was bestowed on many of the boys in his family, apparently due to the energy of his father, the original 'Pipoca'.
Sept 22nd, 2011
Welsh football hero John Hartson launched Project FUTSAL's first Welsh hub today at Llangefni Football Club in Anglesey. Former Celtic striker Hartson was capped 51 times by Wales and had a successful career at Arsenal, West Ham, Wimbledon and Luton. He fought against testicular cancer and campaigns on the issue.
Five 'hubs' or education centres will be established in north west Wales as part of the project. The first will be Llangefni, Anglesey. The others will open in Conwy and Gwynedd, in 2012 and 2013.
Project FUTSAL officer Tony Maguire said: "The main objectives are to increase participant's employability and/or enhance their prospects of going onto further education. This is a great opportunity for people in the area who are unemployed. The added bonus of football being included in the programme should be attractive and will bring positive health benefits for participants."